June 18th, 2011 by Monique Altheim
On June 15, Peter Hustinx, the European Data Protection Supervisor, held a
press conference
, where he emphasized the importance of the reform of the legal framework for data protection in the EU. One of the many reforms mentioned, was the reinforcing of international instruments in data protection.
At the
International Data Conference in Budapest
on June 16, the European Commission stated that its proposal for a revised EU legal framework for data protection will be finalized this summer and published in November., and that it would promote the global dimension of data protection.
On the other side of the pond, in the U.S., Senator Patrick Leahy,the chairman of the Senate Judiciary committee, introduced, only a month ago, the
Electronic Communications Privacy Act Amendment Act of 2011
, that would bring the data protections against government access guaranteed by ECPA of 1986 up to date in a changed world of advanced technology and global economy.
Meanwhile, the subject of data mining, while practiced for a while by both private sector and governments, has received a renewed interest, due to ever increasing technological advances such as geotracking, mobile devices and biometrics.
How do the EU Data Protection framework overhaul, the ECPA revision proposal and data mining practices affect the average US consumer?
Find out by listening to this panel, presented at the 2
1st Annual Computers Freedom and Privacy Conference – The Future is Now
, held at the Georgetown Law Center on June 14-16, 2011.
The panel was moderated by
J.Bradley Jansen
, Director at
Center for Financial Privacy and Human Rights
, and the panelists were:
Monique Altheim
, Esq., CIPP, at
EDiscoveryMap
,
Ross Schulman
, Public Policy and Regulatory Counsel,
Computer & Communications Industry Association
, and
Steve Meyer
, Director at
Chain of Evidence.
June 17th, 2011 by Monique Altheim
June 10th, 2011 by Monique Altheim
June 3rd, 2011 by Monique Altheim
May 27th, 2011 by Monique Altheim
"Too many cooks spoil the broth." #informationgovernance #datagovernance http://bit.ly/lwKPF3 #
How safe is it to walk around wth your (Google) wallet in your hand? Would you walk around wth your credit card in hand? #security #
RT @HuffingtonPost: Will Google Wallet really make a difference? http://huff.to/isuOvV #
EU air passenger data deal with US defended by Kenneth Clarke (UK) http://bit.ly/m3NqW2 #PNR #privacy #
social engineering tool? RT @gwynnek: Clever people and brilliant statisticians can see patterns that tell alot. Jason Hong-#sotmn #
the groping war"RT@Drudge_Report: TSA Threatens To Cancel All Flights Out Of Texas If 'Groping Bill' Passed… http://t.co/LJCBdng" #
#eG8 Q from public: where is the discussion on EU values re #internet Ou est la discussion a propos des valeurs ? #internet #
Will the topic of #privacy even come up @ the #eg8 platform discussion w. Zuckerberg ? #dataprotection #security #
RT @CFP11: Zuckerberg: I never said that kids <13 shld be on FB// Je n'ai jamais declare que les enfants <13 doivent joindre FB #eg8 #
Zuckerberg: next big thing is social experiences, like gaming #zynga //l'avenir: les experiences sociaux, p.e. le jeu #zynga #eg8 #
Sarkozy's Web initiative faces reality check http://reut.rs/iGMM9W #eg8 #eg8forum #
Zuckerberg in a suit RT @francetvdirect: Les photos de la rencontre entre Nicolas Sarkozy et Mark Zuckerberg #eG8 http://bit.ly/mk8v5K #
Microsoft fights record EU fine ($1.3 billion), accuses Brussels of witch hunt http://bit.ly/j9vPBq antitrust #
we need privacy diplomacy! @Privacymatters: The CNIL deplores the absence of DPAs from #eg8forum
As YouTube Turns 6 Years Old, Daily Views Shoot Up To 3 Billion (Yes, 3 Billion. Daily.) http://tcrn.ch/jUW4Gc by @robinwauters
RT @iconews: Appreciate concerns surrounding revised eprivacy & cookie laws, advice for orgs athttp://bit.ly/l8rouf(preview) or via our helpline – 0303 123 1113
RT @omertene: McKinsey Report on "Big Data". #privacyhttp://bit.ly/j77sCO(preview)
@AppPrivacy:.. > Group Looks to Help App Developers Create #Privacy -Friendly Policies – AllThingsD http://ow.ly/53I9x #SOTM
RT @CFP11: #CFPconf needs volunteers; free registration for volunteers http://bit.ly/j3T0aW please RT
RT @declanm: Feds want to store U.S.-Europe passenger data for 15 years. (!) http://guardian.co.uk/world/2011/may/25/us-to-store-passenger-data #cnet
RT @privacyfocused: Privacy Lives: New York Times: G-8 Leaders to Call for Tighter Internet Regulation http://bit.ly/l9Fqzs
RT @gohsuket: ! RT @bendrath: Leak: EU EU-USA: Draft Agreement on the use and transfer of Passenger Name Record data to the US DHS… http://deck.ly/~TvCaw
RT @EUinnovation: tech: Gagging orders: Twitter prepared to hand over user data http://bit.ly/iXZlGy #telegraph
RT @NeelieKroesEU: Interested in my remarks on what we need to do to protect & empower children to benefit from the digital world? http://bit.ly/mnqZKi
RT @OxonDataProtect: Euro. Comm. – Vast majority of EU countries "ignore" new #privacy & #dataprotection law on #cookies and consent http://tinyurl.com/4ymrxww
RT @outlawnews: New law on cookies, data breaches and ICO powers comes into force today http://bit.ly/lyiR6g
RT @MaasJonathan: Twitter's new EU boss suggests users who break privacy injunctions by posting on site could face UK courts: http://tinyurl.com/3tsemz4
RT @jfehrman: Morgan Stanley Brokers Will Use #Twitter & #LinkedIn To Market Themselves http://on.mash.to/jg3MAi #socialmedia
RT @LexInformatica: New law on cookies, data breaches and ICO powers comes into force today: http://bit.ly/mP8eb5
RT @ThePrivacyTrap: Most EU countries quietly ignoring new privacy laws http://trap.it/Z2esv8 #privacy
the groping war"RT@Drudge_Report: TSA Threatens To Cancel All Flights Out Of Texas If 'Groping Bill' Passed… http://t.co/LJCBdng"
RT @jonahlehrer: How vivid ads implant false memories http://t.co/gWkKLZdRT
RT @ForbesTech: EXCLUSIVE: Facebook To Launch Music Service With Spotify http://j.mp/jiSbGh [post by @parmy] @techmeme
RT @ThePrivacyTrap: Banks breach data rules with 'alarming regularity', says consumer group http://trap.it/xsHEBY #privacy
@10comm: Civil Society Statement on eG8 and G8 – http://urlite.de/eG8 | in English, French, Spanish, link to German #eg8
May 20th, 2011 by Monique Altheim
May 13th, 2011 by Monique Altheim
May 12th, 2011 by Monique Altheim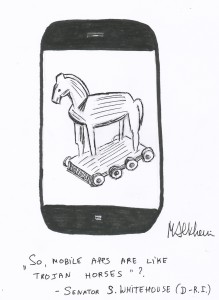 During the
Senate Judiciary Committee hearing on mobile privacy
, held on May 10, Senator Whitehouse asked Rich (FTC) and Weinstein (DOJ) if mobile apps were like "Trojan Horses" of consumer info.
What is a Trojan Horse?
According to Wikipedia,The Trojan Horse is a tale from antiquity. "In one version, after a fruitless 10-year siege of Troy, the Greeks constructed a huge wooden horse, and hid a select force of 30 men inside. The Greeks pretended to sail away, and the Trojans pulled the horse into their city as a victory trophy. That night the Greek force crept out of the horse and opened the gates for the rest of the Greek army, which had sailed back under cover of night. The Greek army entered and destroyed the city of Troy, decisively ending the war."
The contemporary meaning of Trojan Horse, according to GSMA, is
"a specific form of malware [link to malware entry in ]. Like the Trojan Horse of Greek mythology, Trojan Horse programs trick a user into installing them on their phone or computer by masquerading as genuinely useful applications. Once installed however, the Trojan Horse will perform some unauthorised and malicious activity on the computer or phone. Trojan Horses are one reason why you should only install software on your phone or PC if you are confident that you can trust the source of this software. Trojan Horse programs differ from Viruses and Worms [link to appropriate entries in ] because Trojan Horse programs are unable to replicate themselves. Installing anti-virus software on your mobile phone can help to protect against this threat."
From the context of the hearing, it would seem that Senator Whitehouse was referring to the original, albeit metaphorical meaning of "Trojan Horse": the mostly free mobile apps are waiting in the app store to be downloaded by smartphone owners on their mobile phone; once the app is "inside" the phone, it "opens all the information gates" for the app developers, Apple, Google, advertisers, ad networks, the entire marketing ecosystem and a garden variety of hackers and stalkers.
Is this legal?
The consensus during the hearing seemed to be that it is. At least within the US.
Justin Brookman, director Consumer Privacy for the Center of Democracy and Technology, gave a comprehensive summary of relevant laws and an analysis of their application to today's location- enabled mobile devices.
He concluded that "current law allows companies to share data however they wish so long as they don't do something they previously promised not to, which would be a violation of the Federal Trade Commission Act."
In other words: Except in certain sectors, like healthcare and finance, and except in a couple of states like Massachusetts and California, the personal data of smartphone (and general internet) users can legally be shared with anyone, without the data subject's consent.
But the mobile world is global and flat, and does not distinguish between smartphone (or internet) users, depending on their geographical location: it tracks them all the same. Except that outside the U.S., many countries have strict data protection rules that make mobile (and general internet) tracking illegal, unless a list of conditions are met.
The European Data Protection Laws, and the national data protection laws of the EU member states, for example, require, among many others, notice and informed consent for tracking of all personal data, and explicit consent for tracking of sensitive data, relating to health, religious beliefs, political opinions, sexual orientation, race, and membership of organizations.
The current overhaul of the 16 year old EU Directive 95/46EC has exactly this global world in mind.
Viviane Reding, European Commissioner for Justice, Fundamental Rights and Citizenship, recently declared in the context of the EU Data Protection Law overhaul that "To enforce the EU law, national privacy watchdogs shall be endowed with powers to investigate and engage in legal proceedings against non-EU data controllers whose services target EU consumers,"… "Any company operating in the EU market or any online product that is targeted at EU consumers must comply with EU rules."
Apple is already under investigation by data protection officials in Germany, France, Italy and Switzerland for possible breach of their national data protection laws.
Last year, Mexico joined the ranks of more than 50 countries that have enacted global data privacy laws by enacting a "Federal Law on the Protection of Personal Data Held by Private Parties" that for a large part copies the EU model.
More recently, India issued final regulations implementing parts of the Information Technology (Amendment) Act, 2008. These strict privacy rules also take after the EU data protection model and the penalties for non-compliance include imprisonment and fines.
Global companies like Apple and Google should take into account that an increasing number of their worldwide business partners' and customers' personal data are covered by national data protection laws, even though the personal data of their own poor fellow countrymen are not.

May 6th, 2011 by Monique Altheim
April 29th, 2011 by Monique Altheim
Holding Companies Accountable for Privacy Breaches (Epsylon, RSA, AT&T, Apple, Google, Microsoft, Sony…) http://nyti.ms/iCAJKw #
Rep. Bono Mack (R-Calif.) to introduce #dataprotection bill http://bit.ly/jeZxGm #privacy #
India, New privacy Bill: #DataProtection Authority, jail term for offencehttp://bit.ly/m9brr3 #privacy #security #
Amazon's Outage: Winners and Losers | SYS-CON MEDIA http://t.co/PkJ3s4j #
PSN/social networks an easier target for hackers than banks http://bit.ly/iVWn7t #privacy #dataprotection #
Sony may be hit with £500K fine over PSN data loss http://t.co/ca9nZfp #privacy #
Apple's storage of iPhone data raises Swiss privacy protection issues http://bit.ly/ldaJK5 #privacy #dataprotection #
Study: 77% Don't Want to Share Location on Smartphones by @rwwmike http://t.co/Cy6twna via @RWW #privacy #
Why We Need An Open Wireless Movement https://www.eff.org/n/13340 #
Survey: Mobile consumers most concerned about privacy – Mobile Marketing – BizReport http://t.co/MKndyYx #
TomTom sorry for giving customer driving data to cops http://reg.cx/1NQD #privacy #
Canada's Privacy commissioner looking into Sony hack http://t.co/muMzXbS #privacy #
Congressman wants FTC probe of iPhone tracking http://t.co/UyDYyW0 via @cnet #
Jepsen Investigating Smart Phone Tracking, Sony Data Breach – Courant.com http://t.co/MH0dCyV #
Marc Rotenberg Interview on Apple's IPhone Data – Video – Bloomberg http://t.co/AigfolS via @BloombergNow #
Africa likely to lead in mobile health http://bit.ly/hNMLBx #mhealth #privacy #
I found the Apple iPhone bug! It's called the kleptomaniax
"The case is not about patients' #privacy rights"- never heard of de-anonymization? Sorrell v. IMS Health http://nyti.ms/f6RMjA #SCOTUS #
US Senator Blumenthal Demands Answers From Sony Over PlayStation Network Data Breach http://bit.ly/gO5Eib #privacy #
Apple to Alter iPhone Data Collection http://nyti.ms/lPEMCW #privacy #dataprotection #
Japan May Hold Individual Employees Liable for Violations of #DataProtection Law http://bit.ly/g9lEqY #privacy #
Summary: ZDNet's USA PATRIOT Act series ( on how the Patriot Act affects EU data) http://zd.net/lGy5ZR #privacy #dataprotection #
RT @ComplexD: The Five Hottest Topics in #eDiscovery – http://tinyurl.com/3dsftg2 (Sharon Nelson, John Simek, Josh Gilliland) #
RT @RTeDiscovery: Fantastic break down of Judge Peck's Top issues for #ediscovery in 2011. ..http://ow.ly/4HXdI #
(Short and smart) Will There Ever Be An "Internet Erase Button"? http://bit.ly/h6RsWA #privacy #
RT @ActNowTraining: PlayStation hacker took user info – http://bbc.in/hfuKQ6 #dataprotection #privacy #
RT @CenDemTech: Apple's missteps on iPhone location file brings into clear focus the need for "#Privacy by Design" http://cdt.org/K4Y #
CDT analysis of Commercial #Privacy Bill of Rights Act 2011 http://bit.ly/gh4B1V #
French Data Protection Authority Unveils its Goals for 2011 Inspections http://bit.ly/fC06OE #dataprotection #privacy #
+ Happy Passover too RT @euHvR: Zalig Pasen, Joyeuses Pâques, Happy Easter, Frohe Ostern, Felice Pasqua, Feliz Pascua #
RT @JulesPolonetsky: Passover Privacy Plea, let my data go Show Us the Data. (It's Ours, After All.) http://bit.ly/idjd5Q?rqX #
Why you should turn off your smartphone's geotagging feature when you post a picture online http://bit.ly/egWivs #privacy #
Privacy in the Workplace: An Oxymoron? http://bit.ly/eOLumu #
RT @nicfab: The New Tech Law Daily is out! http://bit.ly/eOxpxa ▸ Top stories today via @racheloconnell @melan… (cont) http://deck.ly/~nkSTM #
Thnx! RT @Tips4Tech: #FF #legal #tech #privacy @EUdiscovery @Forsheit @DavidNavetta @bsegalis @InfoLawGroup @D… (cont) http://deck.ly/~rEaHa #
How can US law enforcement agencies access location data stored by Google and Apple?http://bit.ly/huPCz8 #privacy #ECPA #
Lost, Stolen Laptops Cost European Companies Billions in 2010 (study)http://bit.ly/ebqKio #privacy #security #
Interactive murder mystery raises awareness about #dataprotection on German TV http://bit.ly/g1tTRJ (Wer rettet Dina Foxx?) #privacy #
US senator questions Apple for using phone-tracking software http://bit.ly/hhsPDt #privacy #
Update Your Skype for Android App to Protect Data http://bit.ly/fDN3I9 #privacy #security #
Twitter Weekly Updates for EUdiscovery http://bit.ly/hge3lc #privacy #ediscovery #socialmedia #
Maine debates privacy permissions for health data http://bit.ly/h7O6IW #privacy #ehealth #